::Latest Punjab::

IN THE LAST 6 WEEKS


OVER 700 INDISCRMINATE DETENTIONS, IN PUNJAB, INDIA MANY TORTURED AND MANY HELD INCOMMUNICADO

WHEN WILL INDIA IMPROVE HUMAN RIGHTS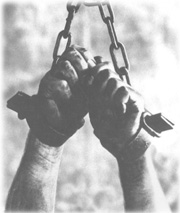 Indiscriminate detention and torture
According to Indian newspaper and News Channels (Alpha, Zee Tv) about 700 people have been detained indiscriminately in Punjab following the re-arrest of an alleged insurgent Jagtar Singh Hawara who tunnelled his way out of jail in Jan 2004. Quite a few people were detained then and some even died under torture in 2004.

Those detained include relatives, friends, acquaintances, human rights activists and people who took food and clothes to Mr Hawara when he was in jail originally.

Many unconnected people who have either been active in political activism previously or even have no previous record have also been detained. Money is being extorted from their relatives.

On 26 June 2005 the Director General of Police accused Human Rights activists of complicity

IT IS COMMON FOR INDIAN POLICE TO DETAIN PEOPLE INDISCRMINATELY IN HUNDREDS AND TORTURE THEM WHEN THEY ARE AFTER ONE PERSON! CRIME SOLVING INDIAN STYLE - GUANTANAMO BAY IS NOTHING COMPARED TO INDIAN PRACTICES

Many women are being held incommunicado as well. Relatives fear to seek help, scared of reprisals from police. Lawyers are concerned about the plight of many detainees.Evidence is being planted on many people. Most people are poor and from villages and not even practising Sikhs.

Information is trickling gradually through newspapers and police statements. Many politically active Sikh leaders who have been vocal about human rights were detained prior to this for raising slogans of self determination. They remain in detention.
---
| | |
| --- | --- |
| | |
| False Case against Jagtar Singh Hawara's Wife - Balwinder Kaur | Protests against the arrests of Sikh Activists |
| | |