:: The Cremation Grounds ::

The Cremation Grounds


In 1994 Jaswant Singh Khalra and Jaspal Singh Dhillon of the Human Rights Wing of the Akali Dal
1
(HRW) set out to investigate what had happened to Punjab's 'disappeared'. Acting on information that police regularly brought bodies to municipal cremation grounds as 'unclaimed', they began to search cremation ground records and found that records of bodies brought in by police remained in the receipt books recording the firewood issued for each cremation. Khalra and Dhillon discovered that in just three cremation grounds, within a single district, 3,000 bodies had been cremated as unclaimed or unidentified by police between 1984 and 1994. As it is now known that over 50 cremation grounds across Punjab were regularly used by police to dispose of bodies, even a conservative application of these figures to other grounds means that the estimated number of those cremated by police as 'unclaimed' across Punjab could help account for the tens of thousands of people who disappeared in the conflict.

The HRW investigation revealed that police regularly cremated as 'unclaimed' the bodies of those who were executed in custody or had died as a result of torture, without informing their families, as a way of concealing police responsibility for these deaths. In fact, far from being 'unclaimed' or 'unidentified', many of those cremated were actually named in the cremation ground records, and were recorded as having died of bullet wounds or other forms of violence. These police practices were in absolute contradiction of the law, which states that a magistrate must conduct an inquiry into any custodial death, and inform relatives of the deceased who have a right to attend such inquiries,
2
and that officers must take all "reasonable steps to secure…identification" of unidentified bodies.
3
Khalra and Dhillon had found evidence of appalling police excesses.


---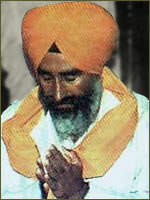 Jaswant Singh Khalra
Khalra's Disappearance and the State's Response
Having published their findings, HRW petitioned the High Court of Punjab and Harayana to investigate these illegal cremations. However, their petition was deemed inadmissible, as they were not personally related to the victims. Eight months after this failed petition Mr Khalra himself was abducted from outside his home, never to be seen again. Following a petition by Mr Khalra's wife, the Supreme Court of India finally ordered the CBI
4
to investigate both HRW's cremation ground findings and Mr Khalra's disappearance.

The CBI's first report confirmed HRW's claims that the police had been cremating huge numbers of victims as 'unclaimed', although the full findings of the CBI report were kept secret because of claims of a 'national security' interest. The Supreme Court ordered the CBI to continue with its investigations and ordered the National Human Rights Commission [nhrc] to also launch an investigation.
5
However, nine years later, neither investigation has come to any conclusion, victim's relatives have received no compensation, and none of the nine police officers charged with Khalra's abduction remain in custody. The Indian State has comprehensively failed to provide justice for the victims of its own violence.


In its initial dismissal of the evidence of police murder and cover up, and its later appointment of an ineffectual investigation,
6
the Indian State has proved itself unwilling to responsibly address its own excesses.

On April, 1995, the United Akali Dals released their estimate of the number of Sikhs killed during the 1984 – 1994 period ; they put the figure at 145,000.

The Supreme Court describing the situation in Punjab as "worse then genocide" then directed the National Human Rights Commission to look at issues in the case and offer compensation to the victims. To date the NHRC has offered compensation to only 18 families at the amount of 100,000 rupees (£1, 250), but with no admission of wrongdoing or prosecution of officials.

The NHRC admitted that the government had "neither conducted any detailed examination in these cases on merits nor [did] it admit its liability." It concluded: "[It] does not matter whether the custody was lawful or unlawful, or the exercise of power of control over the person was justified or not; and it is not necessary even to identify the individual officer or officers responsible/concerned."

Punjab Police officers have asked for blanket immunity, to there human rights abuses.

Thus the NHRC has avoided questions of guilt, responsibility and culpability and has added a layer of immunity to police officers.

There has been three attempts at independent enquiries, however none have been allowed to operate. The government has each attempt gained court injunctions against such investigations.

The Sikh Human Rights Group, Human Rights Watch and Physicians for Human Rights have identified many of the police officers and other security personnel whom eyewitnesses have named as participating or supervising torture, responsible for the detention of persons who were subsequently killed in "encounters" or who disappeared. Such officers remain on duty in their posts - or in some cases have even been promoted - demonstrating that the government has no intention of holding the police accountable for abuses.

In February 2002 state elections brought to power a new Congress government in the state, led by Chief Minister Amarinder Singh. The Chief Minister stated his government's intention to "forget the past and think about the future", but indicated also that "the state government would fight the legal cases of those police officers who fought against terrorism and secure their release". Thus providing a blanket of impunity and unaccountability to those responsible for acts "worse than genocide" in Punjab
1
Now the 'Human Rights and Democracy Forum'.

2
Code of Criminal Procedure 1973, Section 176 (1)-(4).
3
Punjab Police Rules 1934, 25.38.

4
The 'Central Bureau of Investigation', the Indian State's highest level investigative police force.

5
Supreme Court Orders, W.P. 497/95 & 447/95

6
The Supreme Court have only allowed the investigation to examine the three cremation grounds initially cited by HRW, and the investigating body, the National Human Rights Commission, is not allowed to investigate any abuses that are over a year old or were perpetrated by the army.