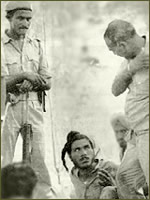 Impunity of Punjab police
:: Impunity ::

Impunity


More than 100 Punjab police officials facing a number of cases and CBI inquiries for their role in killing individuals in false "encounters" , confessed that they had received orders from the top and demanded that either the then DGP, Mr KPS Gill, SSPs, DCs and other senior officers be arrested like them or they too be exonerated. The police officers have been given clemency by the state.

A news report appearing in The Times of India, reported that more than 600 policemen are facing court cases of human rights violations in 750 cases relating to the militancy period in Punjab. According to police sources, more than 1400 petitions have been disposed off in the last five years. KPS Gill, the former Police chief has sought blanket clemency for the police officers facing court cases.
1


In February 2002 state elections brought to power a new Congress government in the state, led by Chief Minister Amarinder Singh. The Chief Minister stated his government's intention to "forget the past and think about the future", but indicated also that "the state government would fight the legal cases of those police officers who fought against terrorism and secure their release". Thus providing a blanket of impunity and unaccountability to those responsible for acts "worse than genocide" in Punjab.



1
The Times of India, Chd. Dated 3.3.2001